Halls
White hall
The White hall designing was finished in 2012 in Dubai. The design project was made by Hiran Patel Architects, one of the best known regional design-studio. As its architects say, that when the culture values meet current requests, it provides the best combination for clients. All of that is at MAHDY's.
The walls of the hall are made from ancient stone blocks on one side, the wooden ones on another. The main purpose of a designing during the construction process was maintaining the ethnic essence of the region. A deep acknowledge of the region values coupled with clients tendency to it, helped our architects and designers to work with such a difficult idea.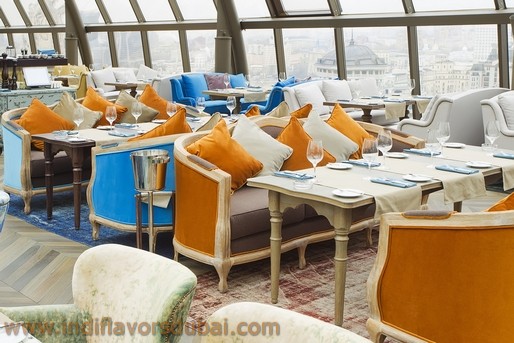 We used various kinds of natural stone to maintain a cultural environment, which, by the way, helped to reduce carbon dioxide ejection. All the lamps was produced by local artisans manually. The wooden ceilings was inspired by a traditional architecture.
In White hall we serve only clean vegetarian dishes, representing a certain Indian region. An illumination, a whole environment helps to perform your dinner as calm and relax as it possible. You can watch a cooking process through the glasses, dividing the kitchen from the banquet halls.
Black hall
The project of Black hall was performed by Khosla Associates collaboration with tsk Design bureau. The result of the productive work is in its calm and magnetic atmosphere for a recreation and a repast.
The interior design was produced in an eclectic stylistics with the dominance of black-reddish colour range, filling the whole environment up with a magnetic and special significances. The hall is spacious and laconic with some functional zones, where clients can enjoy their breakfast, lunch, or dinner in a relaxing, a serene atmosphere.
The whole space is divided by metal septas and steel panels in bordo.
The illuminating system was performed with original geometrical lampshade lamps, filling the whole ceiling up.
The true east magic of Indian culture only in the black hall.